10th International Lyrical Singing Contest "Germans Pla, Ciutat de Balaguer"
Concert and awards ceremony for the winners of the 2021 edition contest
Municipal Theater of Balaguer

Fill in the registration form / contest rules / requirements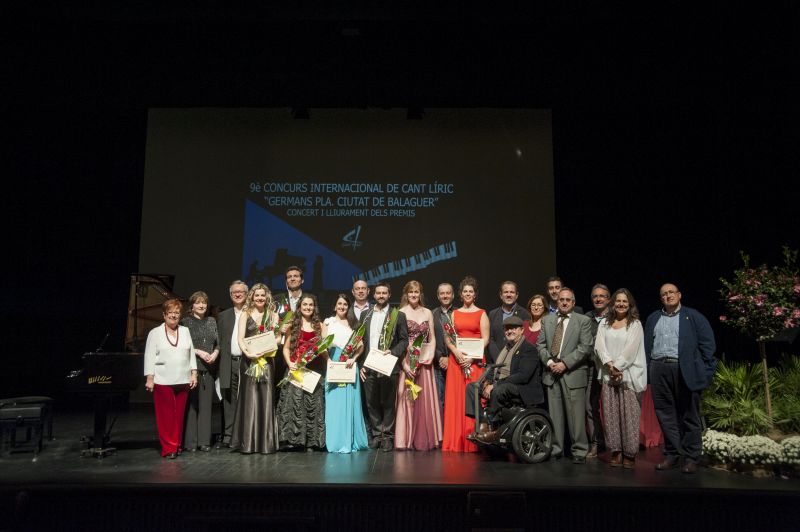 HISTORY OF THE PLA BROTHERS
Joan Pla Pla (born in Balaguer) and Isabel Agustin Ferrusola (born in Olot), had four children, of whom three were great musicians.
This family led an itinerant life, Antonia, the daughter, was born in Puerto de Santa María, Manuel a Torquemada, Josep in Barcelona and Joan in Vic.
The oldest reference that exists of a Pla musician of this family dates from 1738, when Joan Baptista Pla appears on the list of instrumentalists of the Royal Guards performing in an opera performed on the occasion of the anniversary of Felipe V, and in 1744, the three brothers Joan, Manuel and Josep, playing alongside the Achille opera in Sciro, performed at the Coliseum del Buen Retiro in Madrid.
Manuel exercised all his musical activity in Madrid, because his fame did not go beyond the Iberian Peninsula, while his brothers Joan and Josep were much better known around Europe, their names appearing in the first musical dictionaries and encyclopedias of history of the music that began to be published in a general way in the main western cultural centers in the mid-18th century.
In addition to being great instrumentalists, the three brothers were also great composers, leaving behind an extensive written production of sonatas, concerts, zarzuela, comedies, auto sacramentals, "tonadillas", etc.
The three Pla brothers practiced as oboists in the mid-18th century and, as was the norm for talented performers, they themselves composed the works they played on their concert tournees. The Plan brothers did not seek the security that they could report the private patronage of an aristocrat, and thus they preferred to live on their itinerant activity, especially Joan and Josep, who were much more travelers than their brother Manuel and who made themselves heard by the publics of London, Paris, Venice and Lisbon, among other European capitals.
Many of his works were composed together, until Josep Pla died in Stuttgart in 1762.
Some legends have gone so far as to say that Handel claimed them as musicians for his company, a fact not so implausible given that in March 1753 Joan Baptista Pla was in London where he organized a series of six spiritual concerts together with his brother Josep and the violinist Passerini.